Special Purpose Overhead Doors
If you are in need of Special Purpose Overhead Doors, Monarch Door Company has you covered. Whether you are in the market for a Car Wash door, a High Speed Roll up, a Bug Barrier, Impact traffic doors, or Dock levelersand seals to name only a few products, Monarch Door Company has a manufacturer and a trained technician ready to meet your needs.
Monarch Door Company has experienced technicians trained to specifically handle these specialty doors. No job is too big, or too small. At Monarch Door we take pride in being able to meet the demands of the consumer no matter what their specific door needs may be.
Contact Monarch Door Company today and set up a free consultation. We can come out to you, or stop by the showroom and have all your questions answered by a knowledgeable technician.
Car Wash Doors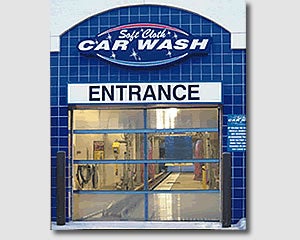 Specifically designed for the wet environment of the car wash, these doors are also perfect for many high usage applications because of their heavy duty aluminum construction.
Our car wash doors have a 3" Galvanized track and polycarbonate panels that have 200 times the impact strength of glass. The counterweight system utilizes a 300 lb test nylon strap along with interlocking weights inside a PVC tube. These doors are built to last.
The air powered operator runs up to 3 times faster than electric door openers and there are no motors to burn out. Our air operators use a minimal amount of air (0.2-0.2 C.F.M) so they are ideal for high usage applications, wet or corrosive environments and fire or explosion proof areas.
High Speed Doors
Designed for universal application in interior and exterior doorways.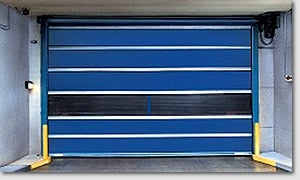 The high speed roll up door with its direct-drive motor and flexible sectional panel design operates 5 times faster than a conventional sectional overhead door and travels at approximately 32" per second while opening and closing to reduce energy costs and control plant environments.
Rated for up to 360 operations per hour and breakaway feature make the high speed roll up door a good fit for many applications.
Bug Barrier
The Bug Barrier door is an economical way of stopping insects and birds from entering any building while allowing fresh air and sunlight in.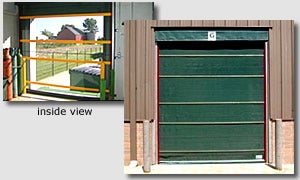 These doors are available in manual roll-up, automatic roll-up, side sliding and standoff bracket mounting models. Bug Barrier doors facilitate natural light and air circulation while maintaining sanitation. The door is made of an industrial weight nylon screen material with a vinyl coating; the heavy duty screen will not fade or mildew and is resistant to decay. The screen material is also fire retardant.
A variety of styles are available to fit most applications, aiding in employee comfort and productivity. Unusual sizes are not a problem because every barrier is custom made.
Impact Traffic Doors
Impact traffic doors come in many styles.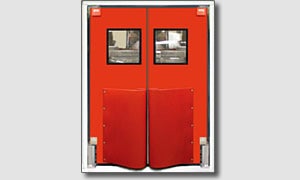 From tough 3/8 thick flexible PVC panels that flex to absorb the impact of loads passing through as the doors swing open, to 1 ¾" thick traffic doors designed to withstand the abuse from high-volume commercial and retail applications. Add on tough abrasion- resistant 1/8" thick USDA- approved ABS plastic facing available in a choice of attractive colors with rigid foam core insulation and clear plastic windows for maximum safety and you have a door that can be used in many applications.
Loading Dock Seals and Shelters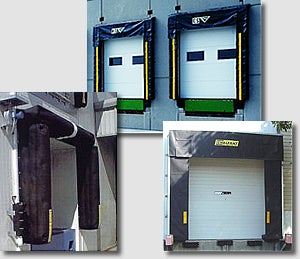 Keep the weather out and the comfort in with a loading dock seal or dock shelter from Monarch Door Company.
Dock seals are a cost effective way to provide a weather-tight closure and seal the rear of a vehicle to your loading bay, saving you money on your heating and cooling bills. Our dock seals come in many sizes and fabric colors, from 20-ounce vinyl up to 45-ounce hypalon or neoprene. If you add the optional wear shingles you can extend the life of your dock seal for many years to come.
We carry and install a variety of dock seals and shelters with an even wider range of options, including retractable and inflatable units. One is sure to be right for your application. Give us a call or use our handy contact form to have our experienced staff help you choose the right one for you.
Loading Dock Levelers
Dock levelers come in a variety of designs, from edge-of-dock and top-of-dock levelers to heavy duty hydraulic pit levelers.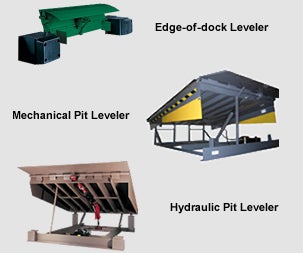 Edge-of-dock levelers are perfect for retrofit situations where there is no existing pit. They're tough, highly efficient, easy to operate, and provide a working range of up to 10 inches from dock level. Properly installed and operated, periodic lubrication is the only routine maintenance.
For bigger jobs, heavy duty mechanical or hydraulic pit levelers are available in virtually every length, every width, and capacity configuration. These workhorses provide even a greater working range.
So for all your Special Purpose Overhead Door needs give Monarch Door Company a call. We'll be happy to explain the dock options that fit your needs.
Strip Door Installation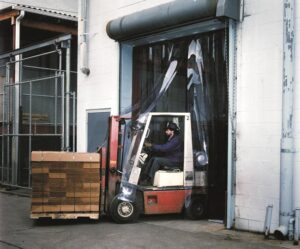 Monarch Door Company has provided high quality door installation services since 1957. Home and business owners throughout Quakertown, PA choose us for their front entry door, storefront door, and strip door installation, repair, and maintenance services. Our knowledgeable and experienced team of contractors has the necessary tools, skills, and knowledge to properly install the right door for you. A new door can significantly increase the curb appeal of your residential or commercial property while also adding better functionality. Our high-quality doors ensure a long-lasting and stunning result you'll be proud of. Contact our team today to schedule your installation or repair service.
What Sets Us Apart?
Committed to service
Locally owned and operated
Serving the community for 57 years