Commercial Overhead Doors
Monarch Door Company has been installing and servicing Commercial grade overhead doors since 1957. Whether you are looking for a Sectional door, Rolling Steel/ Overhead Coiling doors, or a Full view glass Aluminum door, Monarch Door Company will be able to meet your Commercial Overhead Doors needs. Offering a wide variety of doors in any size large or small is what helps make Monarch Door Company your one stop shop for all your commercial needs.
Our experienced technicians will professionally install your doors to make sure they give you years of excellent service. Our 1 year guarantee on all labor assures you that you are getting the quality service you deserve.
Stop by our showroom or contact us for a free consultation. Our knowledgeable staff can help you select the right for all your commercial needs.
Check out some of our recent Commercial Overhead Doors installations.
Sectional Overhead Doors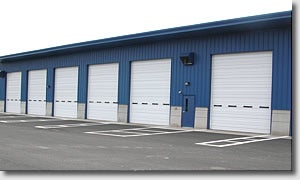 At Monarch Door Company we only use sectional doors that are manufactured to the highest quality of standards. We offer a complete line of doors and hardware that will be sure to meet your specific commercial requirements.
Sectional Commercial Overhead doors come in a multiple of steel gauge, insulation and window options, insuring that you will be able to find a model that best fits your needs. Most models are available in either white or brown and come with the ribbed panel design.
If your in the market for a commercial sectional overhead door, be it small, big or anywhere in between, contact Monarch Door Company today for a free estimate and know that you will be receiving top of the line product at a reasonable price.
Rolling Steel Doors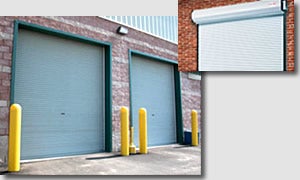 Monarch Door Company offers a broad array of Rolling Steel Doors. The line of doors ranges from the lightweight sheet roll-ups which are used in self storage buildings and come in a spectrum of colors, to the industrial duty, flat slat, insulated, and weather-stripped overhead coiling door. Rolling Steel Doors are available in push up operation, crank operation, chain hoist, or motor operated.
If Fire doors are what you are in the market for, then rolling steel Fire doors will come in the size you need. Whether your job requires small counter fire shutters to cover windows, to industrial duty UL certified models are available. These fire doors come with automatic closure controlled by fusible links that melt at 165 degrees, and are guaranteed to pass inspection.
So if you are in need of a rolling steel door, contact Monarch Door Company for a free estimate and be sure to get the right door for the right price.
Full View Aluminum Doors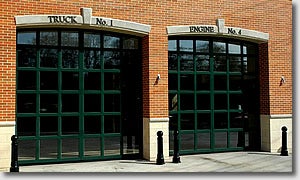 Stylish and functional, Full View Aluminum doors offer you the best of both worlds. Sections are assembled using aluminum tubular type extrusions with through bolt or heli-arc welded construction. The Aluminum will come in mill finish or clear anodized aluminum with stock colors of dark bronze and baked on white.
Aluminum model doors are built to withstand the daily rigors of the most demanding installations and still perform admirably. Aluminum doors have exceptional strength and integrity and continue to operate year in and year out under extremely harsh conditions. The glass in aluminum doors is set in continuous vinyl channel and held in place with a rigid plastic snap in bead with glass options of 1/8" to 5/8" insulated glass, you could also add a pedestrian pass through door and Kynar 500 resin-based finishes in thousands of colors.
What Sets Us Apart?
Committed to service
Locally owned and operated
Serving the community for 57 years