Garage Door Openers (Operators) and Accessories
For your convenience, we carry a wide range of Residential door openers, Commercial Door Operators, and accessories.
At Monarch Door Company, we've been installing overhead and garage door openers as long as we've been installing doors. Our installation teams comply with all current safety standards and regulations. In addition to the manufacturer's guarantee on the unit and parts, Monarch Door Company stands behind its work with a one year guarantee on labor. Residential or commercial, regardless of the model, size, or whether it's made of wood or steel, we carry an operator that will make your life a little easier.
We also offer a full range of accessories from door monitors to indicate whether the door is open and wireless entry systems, to backup power supplies, all designed with your convenience in mind.
So stop by our showroom (map) or contact us today for all your operator and accessory needs.
Residential Garage Door Openers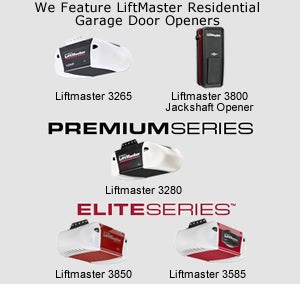 LiftMaster® belt drive garage door openers are the smoothest, quietest, most reliable systems you can buy. Their heavy-duty belt drive is as tough as a steel-belted tire and is equipped with their patented Motor Vibration Isolation System (MVIS®) that eliminates powerhead vibration for smooth, quiet operation year after year.
Liftmaster's two Elite Series™ models – 3850 and 3585 – offer the ultimate in features and performance. The LiftMaster 3/4 HP 3585 has 50% more power than other openers, and the LiftMaster 3850 is the only professionally installed garage door opener with fully integrated EverCharge® Standby Power that continues to operate even when the power goes out. Both models also come with cutting-edge accessories for the ultimate in garage access.
Stop by and let Monarch Door Company's overhead door specialists help you choose the right model for your home today.
Commercial Overhead Door Operators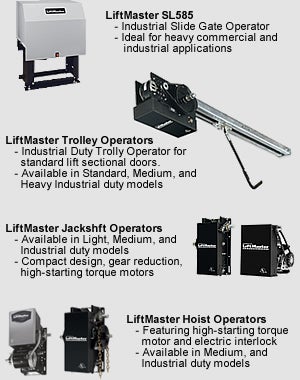 Our Commercial Operators are built to be used. Whereas the typical residential garage door opener may only be used a few times daily, a commercial operator may be used several times an hour, or more. The Overhead door specialists at Monarch Door Company can assist you in finding the right type of commercial operator for your specific needs.
Sectional doors of moderate size often use a trolley or draw-bar operator. The trolley operator runs off of a rail that is positioned over top of the door.
Rolling Steel and larger sized sectional doors often are fitted with a side mount operator. The side mount operator drives a solid shaft to operate the door and comes in medium, commercial, or industrial duty models. An optional chain hoist can be added on some models to open the door during a power failure,
All of our operators come with options to add remote controls, loop detectors, safety bottom edge, safety eyes, timers to close the door, and other features.
Contact Monarch Door Company today and we'll be happy to discuss your company's needs.
Garage Door Accessories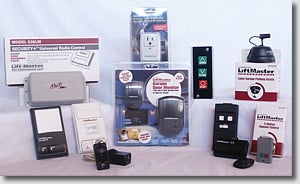 Along with garage door openers there are many other accessories that you can get to help make your day go a little smoother.
From garage door monitors and laser light parking assistants to replacement remote controls and outside keypads, Monarch Door Company has it covered. We even offer surge protectors and backup power systems for your garage door opener and offer professional installation services for all of the accessories we sell.
Stop by our showroom to see our full line of accessories and have our helpful sales staff explain how we can help make your life easier.
What Sets Us Apart?
Committed to service
Locally owned and operated
Serving the community for 57 years